Unable to connect to the core client
Talk

0
100pages on
this wiki
This error usually occurs just after starting BOINC Manager, but can occur at any time. If the BOINC Manager window is open, you will see an error dialog, otherwise BOINC will alert you by changing the notification area icon.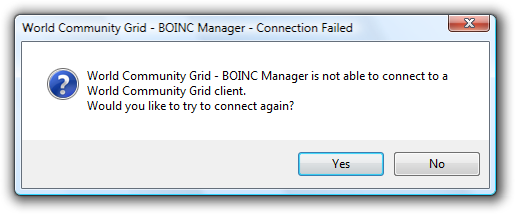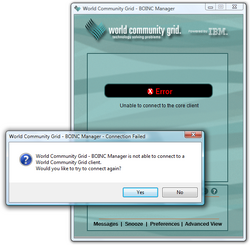 Note: This error is not caused by a failure to connect to the Internet.
There are two common causes for this problem.
The core client (boinc.exe) isn't running. Either it has crashed, security software prevented BOINC Manager from launching the core client, or the process or service was never started to begin with.
Communication between BOINC Manager and the core client is blocked. BOINC uses TCP on localhost port 31416 for communication - most firewalls permit this by default, but some make it possible to block localhost traffic.
Solution
Edit
Check whether boinc.exe is running, using Task Manager (Windows) or ps (Linux, BSD).
Check your security software. Check the block list and your firewall settings.
If BOINC crashed, it will save a crash report in the file stderrdae.txt in your data directory.