The BOINC client alone lacks quite a few desirable features. Many volunteer programmers have developed add-ons or stand alone applets to perform one-off maintenance tasks or track supplemental information.
One of the more popular [free] addons is BOINCview by Amanheis. It is offering a single interface multi-device manager. Below a screenshot exhibits filtered results successfully completed for a [beta6] project test showing at bottom of top frame the average run time per job and the activity log in the lower frame: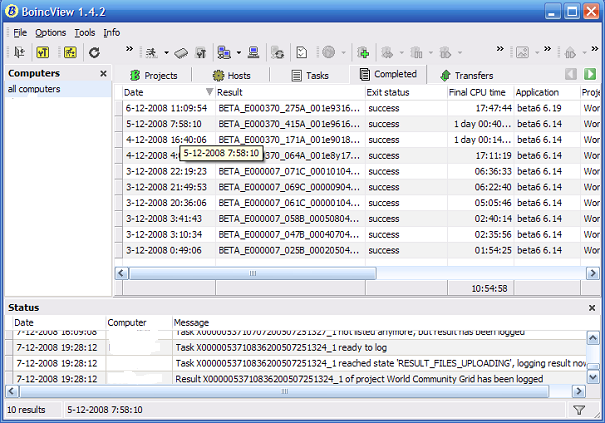 Computer names were removed. Each task shows what device in a local network did the task though.
To find out about what's on offer visit the Berkeley developers site for a run down of the available tools at BOINC add-on software. There are tools for Windows, Linux and Mac.
Warning
These tools are not always consistently maintained and are not in any way or form endorsed. They may work with older client versions, but not necessarily newer. Tools that make changes should be used with caution. Best is to stop the client completely and make a full backup before running these tools.
Related topics
To return to the Frequently Asked Questions index choose link below or top left margin!