If you want step by step directions, use the installation walkthrough (Vista).
Quick start
Edit
Download the installer from the World Community Grid website.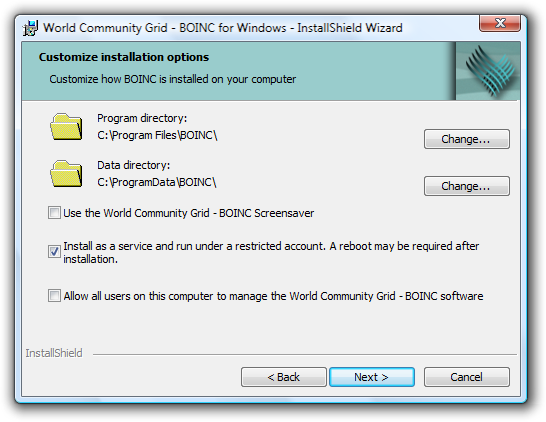 Leave the folder selections at the default values.
Using the screensaver or not is your decision. You can change your decision later.
We strongly recommend selecting "Install as a service and run under a restricted account".
Most members will want to leave "Allow all users on this computer to manage the World Community Grid - BOINC software" unselected.
External links
Edit
Ad blocker interference detected!
Wikia is a free-to-use site that makes money from advertising. We have a modified experience for viewers using ad blockers

Wikia is not accessible if you've made further modifications. Remove the custom ad blocker rule(s) and the page will load as expected.