Help Defeat Cancer used image processing techniques together with thousands of images of microscopic cancer tissue samples to determine the specific type and stage of cancer present. This information allowed the researchers to cross-reference the cancer type with the known outcomes of individual patients to determine which therapies or combinations of treatments are most likely to be effective for each kind of cancer.
The project was highly successful, the researchers using the results to get funding for a clinical decision support system to enable researchers and physicians to automatically analyse and classify imaged cancer specimens with improved diagnostic and prognostic accuracy.
Publications
Edit
Main article: Publications
Yang, L.; Chen, W.; Meer, P.; Salaru, G.; Feldman, M. D.; Foran, D. J. (2007),
"High Throughput Analysis of Breast Cancer Specimens on the Grid",
Medical Image Computing and Computer-Assisted Intervention – MICCAI 2007 4791: 617 - 625, doi:10.1007/978-3-540-75757-3_75

Related research
Edit
Yang, L.; Meer, P.; Foran, D. J. (2007),
"Multiple Class Segmentation Using A Unified Framework over Mean-Shift Patches",
IEEE Conference on Computer Vision and Pattern Recognition: 1 - 8, doi:10.1109/CVPR.2007.383229

Yang, L.; Foran, D. J. (2007),
"A Variational Framework for Partially Occluded Image Segmentation using Coarse to Fine Shape Alignment and Semi-Parametric Density Approximation",
IEEE Conference on Image Processing 1: I-37 - I-40, doi:10.1109/ICIP.2007.4378885

Hall, B.; Chen, W.; Reiss, M.; Foran, D. J. (2007),
"A Clinically Motivated 2-Fold Framework for Quantifying and Classifying Immunohistochemically Stained Specimens",
Medical Image Computing and Computer-Assisted Intervention – MICCAI 2007 4792: 287 - 294, doi:10.1007/978-3-540-75759-7_35

Niculescu, G.; Foran, D. J.; Nosher, J. (2007),
"Non-rigid Registration of the Liver in Consecutive CT Studies for Assessment of Tumor Response to Radiofrequency Ablation",
IEEE Proceedings of the Engineering in Medicine and Biology Society: 856 - 859, doi:10.1109/IEMBS.2007.4352425

External links
Edit
Help Defeat Cancer

Status

Completed

Info

July 20, 2006

Completion date

April, 2007

Research software

Software version
Project news
Loading RSS data...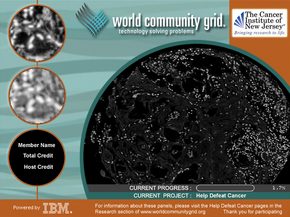 Ad blocker interference detected!
Wikia is a free-to-use site that makes money from advertising. We have a modified experience for viewers using ad blockers

Wikia is not accessible if you've made further modifications. Remove the custom ad blocker rule(s) and the page will load as expected.