World Community Grid has a presence on Facebook through countless groups, pages, causes and applications.
How can I show my World Community Grid statistics on Facebook?
Edit
Easy! This application for World Community Grid on Facebook allows you to add your member, team or global statistics to your Facebook profile.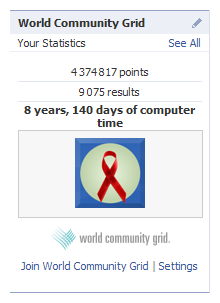 Is there an "official" Facebook application?
Edit
No. None of the World Community Grid applications are created by Facebook. Most of them aren't affiliated with IBM or World Community Grid, either. One application is endorsed by World Community Grid, but it isn't written by them or hosted by them.
Related topics
Edit
Ad blocker interference detected!
Wikia is a free-to-use site that makes money from advertising. We have a modified experience for viewers using ad blockers

Wikia is not accessible if you've made further modifications. Remove the custom ad blocker rule(s) and the page will load as expected.